Last:
The Beginning
Spring 1993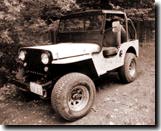 This is a good point to list what I started with.
'52 flat fender body, Full roll cage, High back seats, Chevy 307, T-90 transmission, Model 18 transfer case, Warn overdrive, 5.38 gears with power lock, Dana 44 in rear, 25 in front, Ford 11" drum brakes, Power Steering, 31x11.5 tires on 8.5" rims.
Once I got it home I started playing around with it. First order of business was to get it started and after searching around I finally found a battery small and narrow enough to fit in the battery box behind the firewall. With the new battery I was able to get it started and drove it up the block. At the end of the block was a stop sign on a hill. Once traffic cleared I gave it some gas, let out the clutch, gave it more gas, then the clutch grabbed, the jury rigged gas peddle stuck, the tires spun (small bald ones were still on) and I spun around out of control, up on the sidewalk, then over into the Bon Goodyear parking lot were I was able to get it under control. Needless to say it scared the shit out of me. I drove slowly home and set about fixing the gas peddle.
Next:
Ramblings