October 20, 1992
The thirties were a great period to be a young adult. It was the depression but no one expected much and you could have a special date dancing to a good band in a center city hotel for a $1.50 minimum (two highballs). There was little drinking, no drugs, and none of the serious relationships. This was the period when we both were in our dating years.
Courtship
In 1938 I lived on Wadsworth Street with my parents and an Aunt of Mary Liz's lived on Allens Lane, the street behind us. Fate decreed that Mary Liz should visit her Aunt during July of 1938 and my sister arranged a date for her with a friend of Bob Worthington's.
They met at our house, July 18, prior to going to the Navy Yard to have dinner on the Cruiser Philadelphia where Bob was a junior officer. I happened to be home, and after I met Mary Liz, I immediately started making plans for the future.
The next day, while washing my new Olds, Mary Liz started a conversation from her window and that led to my suggestion that we go inside to play records. I had to be sure she was a good dancer. She was and we arranged for our first date, July 21.
Mary Liz had finished one year at SMU and didn't plan to return. She lived with her parents in Rahway with a sister Carolyn.
The first date was at the Melrose Riding Academy. I started off by locking my keys in the car and later spilling a beer on her. In any case we had a great evening.
During this period, I was working the 4 to 12 shift because of a problem at the plant. Friday night I would make a fast trip to Rahway for a late date and a nice weekend together. This continued until I got off the night shift and by December I was spending practically every weekend in Rahway.
Mary Liz did some modeling for Bloomingdales in New York and had a job as "Alice in Wonderland" for the Wonder Bread exhibit at the New York World's Fair. She commuted on the Long Island RR. RCA introduced TV at the fair which I think it was the last good fair.
About this time I was sent to Dayton Ohio to train the workers at Wright Field on the technique for working with Plexiglas. I guess absence makes the heart grow fonder because I wrote every day and we grew closer together.
Engagement Period
I called her Betty or M.E. in those days and on February 18, 1939 I gave her a bogus ring, a Woolworth special, in their kitchen in Rahway. Naturally this was quickly followed by the real thing and we went to Blue Hills to celebrate our engagement.
The Cards had an open house on April l9th. to introduce me to their friends and Mary Liz came to Philadelphia for a company dance on the 29th.
I was busy at R & H and Mary Liz was busy at Bloomingdales and at the Fair when it opened. In August Mary Liz and her Mother took a trip up to Quebec and after that we spent a lot of time together either in Rahway or Philadelphia. We were getting ready for our wedding in November.
In September, Hitler invaded Poland on the 1st, we bought our Living Room furniture on the 2nd., England declared war on the 3rd. We bought our Bed Room furniture on the 5th., Silver on the 15th, and met with the Archbishop on the 26th.
Neither of us had ever saved much money so it was a question of spending what we had for a down payment on a house or for furniture. We decided on furniture and with the wedding presents we were able to start married life completely equipped. The house problem was solved by renting a new row house, 4018 Bleigh Street, in Mayfair. We signed the lease on October 14th to rent it for $45 per month. We should have bought it for $450 that was the required down payment.
During October and early November we were busy with showers and parties. We got the marriage license on November 12th. and were married on November 25th.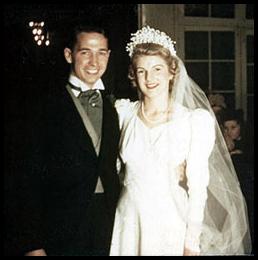 Marriage and Reception
Our Philadelphia friends came to Rahway on the 24th and stayed at a Hotel Berkely-Carteret in Elizabeth, N.J. The fellows all got together and we had a bachelor's party. The wedding was at the Card's home on the 25th of November and Mary Liz had received permission to have a priest perform the ceremony in their home. Bob Reitinger was my Best Man and Mary Liz had her sister, Carolyn, and my sister, Dorothy, as Maids of Honor. It was a small wedding because it was in the home. I set up my audio system to provide the music.
A large reception was at the Colonia C.C. and everyone had a great time. Dr. Card and his quartet sang for us and our favorite was "Oh! Johnny Oh!" with the words changed to "Oh! Eddie Oh!"
There were the usual festivities and it soon became time for us to leave on our Honeymoon. We drove as far as Wilmington the first night and stayed at the DuPont Hotel. Mary Liz dropped rice as she entered the door trying to look blase'. Carl Vogt guessed where we would stay and gave us a phone call.
Honeymoon
It was Sunday and Mary Liz went to church while I read the paper and then it was off to Florida. The first day we drove to Rocky Mt. N.C. and the second day to Jacksonville FL. I recall that I was surprised that it was still cold. Finally on the third day we arrived at our cottage in West Palm Beach close to Lake Worth.
We spent Thanksgiving on the beach as we did quite often during our stay. We went fishing one day and drove to Miami another. In general we just enjoyed each other and we were getting anxious to start our life together in our little home.
On the 7th we started home stopping in McClellansville S.C. and then took the Norfolk ferry across the Chesapeake and arrived in Philly on the 9th. Again we were busy with parties, our families, and Christmas shopping.
We moved into our new home on the 22nd. of December. M.E. prepared her first meal on the 24th. and cut her finger on the 26th. Christmas dinner was at the Cobb's, Mary Liz' aunt, and we celebrated the New Years at the Engineer's Club with the Reitingers and other friends. Thus ended 1939 and another era in our lives.
next: The Fourties
Contents