October 20, 1992
This was a new experience for us. We were a family and had all of the responsibilities of marriage. We added to our family and I became a summer bachelor since Mary Liz and the children spent the summers in Seaside Park. The world was at war and we had rationing. We made many new friends in Seaside Park, joined the Yacht Club, and I became interested in sailing.
1940
The depression was still a problem but things were getting better since the war in Europe was increasing business. Our main activity seemed to be entertaining at home and visiting our relatives. The Reitingers and Vogts were our closest friends at this time and the six of us had good times at the Vogt's home, sometimes for the weekend. I was a member of the Engineer's Club and their dances, football games at Penn, and visits to the shore provided the principal outside pleasure.
The Reitingers were married June 25th and moved into their new home in Cheltenham. Mary Liz was a bridesmaid and we enjoyed the usual marriage parties.
Our first married vacation was spent on a motor trip to Lake Placid, Niagara Falls, and Western Pennsylvania.
Our first year ended with my sister's marriage to Bob Worthington on December 21st, Mary Liz was a bridesmaid again. A nice reception was held at the Penn Athletic Club.
1941
We added the Scotts and Pyles to our close friends and got together with other of my friends at Rohm and Haas. Mary Liz joined the R & H sewing circle and became acquainted with the Bristol wives.
We spent a lot of our weekends in Rahway. Having dinner with friends and dancing continued to be a major source of entertainment. Bridge lessons became part of our schedule on Monday nights at the Cheltenham High. During these early years, bridge was usually the activity when we met with our friends for an evening.
Our vacation in '41 was a motor trip with the Vogts to Chicago in their new Buick Century. On the way we stopped at the Indianapolis Speedway and did a few laps around the track. We stayed at the Stevens Hotel in Chicago and had an enjoyable time sipping drinks in The Old South Room, and in relaxing on the hotel roof. Of course dancing to the hotel orchestra was a pleasant evening affair.
Bob Worthington was exec on the submarine Silversides and Dorothy went to Hawaii. On October 27th she was stricken with Polio. My Mother went to Hawaii to be with Dot and Dad stayed at our house. Dot received the new Sister Kenny treatment and didn't seem to have any serious after effects from the polio.
Pearl Harbor was bombed and war declared while they were in Pearl Harbor. Dad wrote President Roosevelt about Dot's problem and he arranged for a return to the USA on the first flight out of Hawaii.
During November and into December Mary Liz became ill and spent about six weeks in Rahway. It turned out that she had a tubal abortion.
In 1941 we traded in the Olds and bought a new maroon Packard 6 coupe.
1942
More of the same. We had a busy schedule and in 1942 we played more bridge. Mary liz took up a little sewing and I did some teaching for the war effort. I taught the workers at various plants how to communicate. Because the plants were on shift work, I was usually scheduled for the training during the wee small hours of the morning.
The effects of the war were becoming apparent. Everything was in high gear. We were working six days a week. Sugar was rationed on May 6th and gasoline on the 13th. Blackouts were required and searchlights were spotted around the neighborhoods. It was interesting to watch their beams scan the skies.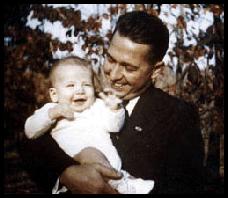 1943
Gary Vogt was christened on February 11th. and Mary Liz is his Godmother. John Reitinger was born in February and Ed Jr. was born in Rahway on May 27th. Lee Herrington did the honors. Mary Liz stayed in Rahway for awhile and then a Mrs. Howe helped her get started when she came home. Carl Vogt is Ed's Godfather and Aunt Dot was his Godmother.
With the Vogts, Reitingers, and Suttons all having babies and with the war rationing the rest of the year was quiet. Life would never be the same. The three couples enjoyed comparing notes and got together once in awhile for a day out. I remember one time when we went all the way to the Vogts on the subway and trolleys.
1944
The babies and the war changed our social life during this period, there was less entertaining and we spent more time with our families and close friends.
A major change in our life was when the Cards rented a beautiful place on the beach in Mantoloking N.J., the Zampieri place. Ed Jr. was one year old and we took great pleasure in watching him grow and enjoy the beach and water. Mary Liz stayed there all summer and I started my life as a summer bachelor which lasted for 30 years. The Cards and I would gather for the weekends. We always kept a lot of beer on ice in one of the ubiquitous Coco Cola coolers of the day. It was a very relaxed and pleasant period of our life. The beach and Atlantic ocean were our front yard and we ran down for a dip frequently.
During the summer the Cards agreed to purchase a house in Seaside Park. It was a four story house a block from the ocean and had lots of possibilities. Shortly thereafter a major hurricane developed and Mary Liz and Ed Jr. were chased home. I couldn't get in touch with them but they arrived in Rahway with the two important possessions, Eddie and the "Toytie" seat. The house in Seaside Park was no prize. After the hurricane there was much work to do to make it livable.
During the fall we spent our weekends in the cold house getting it in shape. In 0addition to the contractors who shingled the roof and exterior, for about 10 weeks, I scraped paint and sprayed over five gallons of paint per weekend on the walls and woodwork while Mary Liz made everything ship shape. It was hard work but we sure enjoyed roughing it.
1945
The big deal in 1945 was spending our summer at the new house in Seaside Park. Naturally there was still a lot to do. We met a lot of new people and enjoyed the beach in spite of the oil that washed ashore from the ships sunk off the coast. Blackout shades were required because of the submarines that cruised off the coast. We also had one of the few phones at the shore, probably because Aunt Carolyn was a stewardess, I was on call, and Dr. Card was an MD.
I received my degree as an Electrical Engineer at the '45 U of P graduation.
In 1945 the war ended and everyone rejoiced on VJ day. R & H closed early and Ted Monahan and I headed for the shore with a bottle and blowing the horn "dit dit dit dah" for victory all the way. We were disappointed that the shore was so quiet but we soon had things jazzed up and a party got under way at the William's house. Aunt Carolyn and John "At" tied one on drinking Southern Comfort and the rest weren't in much better shape. John "At" Atkinson was a Colonel in SAC and he buzzed the town after he got back to Kansas.
Ed Jr. experienced some problems during this period. He broke his finger in the front door, broke his arm when some jerk tossed him in the air and then didn't catch him, and finally spent a little time in the hospital for a slightly fractured skull after falling off the side of the cellar stairs.
1946
Mary Liz was pregnant again and, and after many visits to Dr. Lull, Carolyn was born on April 24th. at the Lying-In Hospital in Philadelphia. It was back to Seaside on June 22nd. with two wonderful babies and a young girl to help Mary Liz with the infants. Carolyn Sr. was Carolyn's Godmother and Bob Worthington is her Godfather.
Christmas and Birthdays became more important and we had a great time planning and buying presents for the children. Usually we spent the holidays at the Sutton's or Card's and sometimes everyone came to our house.
1947
In February we took a train trip to Miami and spent 16 days in Florida and in driving the Card's car back through the Southern states. The car burnt so much oil that we had to add a quart every 30 miles, We visited Miami, took a boat trip to Ft. Lauderdale, took in the dog races, J'ai Alai, and spent time at the Venetian Pool and on Tahiti Beach in Coral Gables. On the way home, we visited the West coast of Florida and stopped to see the Pyles in Knoxville TN.
The summer at Seaside, June 20th. to September 20th. was spent as usual.
In 1947 I made a big mistake. Johnny Dick, Walt Benson, Cecil Stiner, Bill Cornell, and I decided we could build a house and make some money.
We started on a site near Bristol but we ran into a problem with the developer because we were "do it yourselfers". We gave that up and moved our efforts to a site that Stiner picked out near where he lived, in Havertown.
We tried to get a construction loan. Again our inexperience voided the effort and we then financed the project ourselves with some help from Dr.Card.
We had trouble with the local codes which required a full basement and didn't permit cinder blocks. Also working only on weekends with a long commute in traffic was a major obstacle. We bought a small concrete mixer and I used a wheelbarrow to pour the basement walls. As a result I developed a back problem which became progressively worse as the year ended. I could hardly get to work. I was bent over and walked like an old man.
Walt Benson left the area and Bill Cornell wasn't very reliable. The other three, after working many weekend hours, finally finished and sold the house in 1949. We did everything and even started the brick laying. Fortunately we took advantage of a construction strike and we were able to get a contractor to finish the bricklaying.
There was bit of a recession and real estate wasn't selling. We were fortunate and I believe we were able to sell the house for around $20000. I made a rough estimate that I had received less that a dollar an hour for my efforts. At any rate we didn't give up and completed a rather nice house.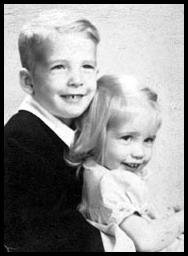 1948
1948 started poorly. I worked on New Years day because of a plant shut down and it was all I could do to get home. One night, in desperation, I called an Osteopath at midnight and he was the one that determined that I had a disk problem. The pain was always in my leg, there never seemed to be anything wrong with my back and I was being treated for sciatica.
On January 9th. they put me in a body cast and after a couple of weeks, when there was no improvement, it was back to Abington Hospital for about four more weeks. While in the hospital, they removed the cast, put me in traction. They were considering an operation but after a myelogram they found it was unnecessary. The final move was to force my legs against my chest after receiving a shot of sodium pentothal. After that I had physical therapy daily until I was discharged.
I was fitted with a back brace, took therapy as an out patient, and after years, I finally felt OK except for some periods when I overdid.
Eddie Jr. started school on September 21st.
Carolyn Sr. married Bob Maida on November 13th.
1949
This is an important year because we moved to our new home in Melrose Park. The Reitingers told us about a home near them that Bill Conn was having trouble selling. After considerable prodding by M.E., I agreed to talk to them. They wanted about $25000; we offered $17500 and we moved in on June 22nd. It was a nice single home with four bedrooms and two baths. We enjoyed living there and I later built a finished playroom in the basement for the kids.

next: The Fifties
Contents