August 25, 1992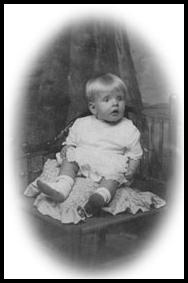 I was born Wed. Feb. 20, 1918 at 7:00 P.M. at St. Paul's Sanatarium in Dallas, Texas. Woodrow Wilson was president. World War 1 was raging in Europe. My parents were Dr. Charles Fuller Card and Barbara Rickelmann Card. I weighed 8 lbs.12 oz. They had planned to name me Louella for my paternal grandmother but Mamma heard that another lady there was calling her baby Mary Elizabeth and liked the name. Thank goodness!
I was baptized Apr. 28, by Rev. Louis J. Harrington of The Blessed Sacrament Church, Oak Cliff, Dallas, Texas. My Godparents were, my cousin, Bernard Harter and my aunt, Della Folk. My father was the superintendent of Parkland Hospital. We lived at 212 Crawford St. in 1918.
When I was six months old we went to New York where Daddy took courses to specialize as an Eye, Ear, Nose, and Throat M.D.
By the end of the year we were back in Dallas on Crawford St. In 1919 we moved to 314 S. Greene St. in Palestine,Tex.In 1920 we moved to our own home at 806 Sylvan Ave. Our telephone number was 738. Daddy's office number was 68.
My sister, Carolyn was born Dec. 20, 1920 in Dallas. We stayed with my grandparents Roger Sherman Card and Louella Diamond Card. They lived at 102 S. Willomet ST., Oak Cliff.
Palestine was a small town in east Texas. Mamma and Daddy had lots of friends and we had a happy life there. We always had help. There was Sadie and Myrtle and L.C. Mamma was a real southern lady. She played a lot of bridge. One morning she waited and waited for her friend, Mrs. Anderson to pick her up only to discover that she had been murdered in her bed. Her husband had cut her throat. Some of our other friends were the Bushes, the Hunters, the Converses and the Reeves. I especially remember Robert Bush, Sunshine Reeves and Louis Davis.
I started school at St. Mary's Academy Sept. 5, 1924. My first grade teacher was Sister Ida.
I made my First Holy Communion Apr. 19, 1925 at St. Mary's church. Father R. Frei presided. I was confirmed Apr. 26, 1925 by Bishop Byrne of Galveston.
I was vaccinated for small pox Feb. 25,1925. At some point we were vaccinated for Typhoid Fever. It was bad down there in those days. My mother's father, Herman B. Rickelmann, died from it in 1897. We both had Whooping Cough and Chicken Pox but I never got the Mumps! I wouldn't eat and was real puny. I remember that Daddy took me to Dallas on the train and I can still remember walking into a big hospital. Many years later Aunt Mable said that I had malnutrition. After that I was made to eat and I took cod liver oil and other tonics.
At that time we had a Model T Ford-a real Tin Lizzie. My father was the local doctor for the I.N.G.N. railroad so we had a pass and could travel free. Mamma's sister, Clara Donohoo and family lived in Marlin and we would go visit. Marlin was not far from Palestine but it was a big deal by train. We had to spend the night in Hearne and take another train the next day. The train stopped periodically to take on water.
We were fascinated by the Donohoo's outhouse. Mamma and Aunt Clara would delight in scaring all us kids with stories about the Red Headed Kumplumeplucker.
I also remember going to Ft. Worth to visit Aunt Della. We would go out to Lake Worth to go swimming. Mamma always enjoyed being with her sisters and, of course, we had lots of fun with our cousins, Richard and Elizabeth Ann Donohoo and Elmer Folk. The Harter boys were too old for us but they were nice to us.
One time we went up to Pennsylvania to visit Aunt Kate and her family. Eileen was my age. Alberta and Dorothy were there but they were older. Lee was away at college.
One time we went to a Klu Klux Klan parade. It was at night and the marchers carried torches. It was scary. Mamma had me sit on top of the car so that I could see better.
Mamma also took us to a Holy Roller Meeting. It was in a little church out in the country. All the colored people were singing and dancing in the aisles. It was very impressive.
I transferred to Lamar Public School and finished the third grade and part of the fourth there.