August 2nd

The trip to Hessel started around 12:30pm. The truck was packed and all that needed to be done was load up the dogs and say goodbye to Kate and Arla.
Day 1 was going to be a short leg to Spokane via I-90. It started out slow due to the fact it was Seafair weekend and the Blue Angles were flying and I-90 was shut down across Lake Washington. This was not a big deal and I took 520 across the lake. But, 520 turned into a little bit of a parking lot because everyone was gawking at the Blue Angles. Once over the lake things picked up again. Jumped on 405 South through Bellevue to get down to I-90. Another brief backup as there was a fender bender in the middle lane going through the Wilberton Tunnel. Hopefully this will be the last of my traffic problems.
Once onto I-90 it was pretty typical. Kate called on the cell phone while I was going through Issaquah and I had to cut her short as I was driving. Rule #1. Don't talk on the cell phone while driving. Once over the pass driving turned into the normal courious mode of driving in the right lane unless you were passing.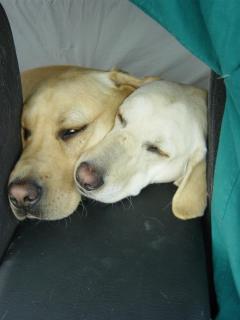 Phineas and Dottie settled into the extra cab area and chilled out. Played some Phish for a while and after crossing the Columbia started in on my book on tape, Restaurant at the end of the Universe.
Stopped in Moses Lake for gas and to let the dogs out to pee. They where not interested in any water though. The day was pretty overcast, about 85 degrees in Eastern Washington so I was not too concerned about the heat.
Just short of Spokane we stopped at a rest stop and took a little break. Did the pee thing again, and this time the dogs had a little water. Called Kate and filled her in on my progress. It was about 4:00 and I was making good time.
Arrived in Spokane and decided to get off in the downtown area and just drive around a bit. Ended up on a road with lots of strip mall type things and car lots. Then the phone rang. It was Margy in Hessel. Like a good driver I pulled over to talk. My plan was to arrive in Hessel sometime on Wednesday, but if I made good time, I might get there Tuesday night. Told Margy I would call if I was going to be early.
Wound my way back to I-90 and decided to find the KOA, so I could get camp setup and then figure out what to do for dinner. At this point I did not have the laptop setup with my more detailed maps of Spokane, and figured I could find the KOA without it. But it was not very obvious what exit I should take when looking at the Garmin, so I took the next exit and pulled out the laptop so I could get a more detailed look at where I was. Turned out I needed to go a few more exits, so back on I-90 I went. Saw a Barnes and Noble and decided to stop to get some more reading material. Back on I-90 one more exit and drove into the KOA.
When checking in I asked the two teen age boys where any good places to eat where. They pointed me back to the "mall" area where I just was at Barnes and Noble. No, I said, I'm looking for a good local place to eat, like maybe a tavern some where. They both looked at each other, obviously not every having eaten any where except a strip mall, then said there was a bar and grill just down the road.
I backed into my tent spot, number 8, and unloaded the dogs. They were all amped up for chow, so they had their dinner, and I setup the tent. After a walk around the campground, we got back into the truck in search of some food for myself.
Down the road we went to the local bar and grill. It looked pretty run down and not something that would pass with Kate so I continued on and took a side road back towards Spokane. This was a pretty out of the way, industrial part of east Spokane and there really didn't look to be much in the way of nice cafes out here so I stopped a the next tavern I saw. It looked a little better than the first one so I pulled in, snapped a picture of the place and headed in for some dinner.
It was your typical neightborhood bar, with some pool tables and a bunch of locals at the bar watching bull riding and playing pull tabs. The menu was pretty sparse bar type food and I ordered a cheeseburger, fries, and budweiser from the woman at the bar.
Eventually the bull riding changed to the Mariners game and my food arrived. It was your basic cheeseburger and fries, but was actually pretty good, and not very greasy at all. In prepration for my next meal I asked the bartender where a good place for breakfast might be in the area. She didn't really know but one of the locals asked which way was I going? "East" I said and he replied, oh, not much in that direction until you hit Idaho, which was not that far away. "There is a really good truck stop in Post Falls", he offered. That sounded good to me, and the plan for breakfast started to congeel into getting a latte at the KOA coffee shop, then hitting the road early for a little bit and doing the truck stop breakfast.
Then it was back to the camp site to write up the days happenings while the sun set in the background and the dogs sleep at my feet.
(Note: Kate gave me an assignment to take a picture at each place I ate, so that's the reason for all the restaurant pictures).
August 3rd

The night at the KOA was not bad, except for the fact that it was right next to a rail line, and near my tent was also several large pumps which came on at different times to pump water up to the water tower next to the KOA. It rained a bit during the night so it was a good thing I put up the rain fly.
I awoke around 5am, with the dogs bugging to go out and pee. So we did a little walk, got pees and poops from all, fed them, and then went off to take a shower myself.
After getting cleaned up I packed up the tent, loaded up the dogs and we were on our way by 6am. I skipped the Latte at the KOA as nobody seemed to be up yet.
Back onto I-90 we went towards Post Falls and hopefully a good breakfast. Post Falls came and went and it wasn't to obvious where the truck stop was, so we just continued on with the idea of stopping at a good place. We got to Coeur D'Alene and headed north on 95. It started to rain at this point and was pretty cloudy and cool. Not much was open yet, or it was chain type breakfast places like Dennys, so we continued on. A few miles down the road was passed what looked like a good open and pulled a U-turn and went back. It was a simple breakfast place and I ended up having what I thought to be a light egg and hash brown breakfast which turned out to be a little heavier than I thought. Still not bad though.
Soon we were on our way again heading up 95 to Bonners Ferry and Rt 2. Traffic was fairly light and there were ample passing lanes. Once on Rt 2, it started to get pretty rural. We stopped in Libby for gas and a potty break for all.
It was still raining, light on and off. The bad thing about stopping was that the slow people you passed got in front of you again and you had to pass then again. Usually this was not a big deal, but between Libby and Kalispell the road got pretty remote again with not too many passing lanes. One person in particular was going about 40 in a 55 zone and had lots of people behind him.
Kalipsell was a pretty big town and basically the gateway to Glacier. Stopped to give Kate a call on the cell phone which still worked. Then it was on towards Glacier. Just after Columbia Falls you started to really get into the Glacier area. It was still raining a bit, but pretty overcast. Then we came around a big bend and you could see and smell the smoke hangining in the air. There was no notices, road closures or anything, but there was a lot of smoke, in fact, it was pretty much there almost all the way along 2 to East Glacier. Due to this and the overcast raininess, there was not much to see.
By about noon, we were in East Glacier, and this is where the landscape really starts to change from mountains to the open plains. The rain had completely stopped by now, but the clouds where still out. We got to Shelby, which was a the intersection of 2 and I-15, and found a park to walk around in a bit and take a break. It was sort of run down and depressing, as were a lot of towns we drove through in this part of the trip. Things were very dry. The sun came out for a little while and it started to get hot.
Continued on to Chester, making good time. Speed limit was 70 and the roads were good and pretty darn straight. Gassed up in Chester. By this time I was done with my book on tape, Restaurant at the end of the Universe, and switched over to Phish again for a while. Right after Chester the road was undergoing repair and we had to slow down to 35 for about 10 miles. This sucked, and about 5 miles in was thinking how nice I-90 would be about now. The scenery was nothing special and basically the same since East Glacier.
Eventually we got back to normal 70mph speed and drove into Havre, which is where I planned on being by day 2. Well, it was 2pm, and I was in a grove. Did some quick calculations with the GPS and determined I could get to Fort Peck in another 2 hours. No problem. Then I remembered we were in Moutain time zone. Hey, it was only 1pm! I had lots of day left. No, it was 3pm, loose an hour going east. So that meant Fort Peck would be 5pm. Still not a problem so we continued on. After Havre, the landscape turned a bit more green and less "rolling fields of wheat", which was getting a little old. I also started to wonder how much more of Montana we had left and maybe it would be a good idea to try and jump down to I-94, but there really wasn't any good routes for that yet.
We continued on, and got stuck behind some slow people again, and by about 5pm, were arrive in Malta, which looked to be a good size town, with several motels, a nice park and some camp sites. Good enough and we got a tent site, as non of the motels took pets.
In setting up the tent it became clear that mosquitoes where going to be a problem here, and sitting outside the tent to type up the days happenings was not going to be fun (so I did it inside the tent).
Feed the dogs, walked and pooped, then found a pay phone to call Kate. Cell phone had stopped working outside Kalispell and never got another signal. Left a message and then went next door for dinner, on the recommendation of the woman at the campground reservation desk. Dinner was OK, and had chicken and mash potatoes and gravy, which was a little salty. Basic, cheap, simple. Oh, and it seems I missed lunch. Well, lunch became snacking in the truck on dried fruit things and water. The towns we passed through during lunch time didn't look too promising, other than your run down tavern, which I didn't want deal with in the middle of the day.
So, here we sit, me in the tent typing up the days happenings and the dogs outside waiting for another walk.
GPS stats to date: 899 miles, moving average 61.8 mph. I forgot to check what the miles were in Spokane, but it was probably somewhere in the 270 mile range, which means this was a 630 mile day.
The plan at the moment is probably to go to Fort Peck, then south on 24, East on 200, then 200S to Glendive and I-94 then take 94 across North Dakota and stay in Minnesota tomorrow night.
August 4th

Camping night number 2 was not nearly as nice as night one. Bad factor number one was mosquitoes. Bad factor two was the train tracks, this time with major freight trains going over a bridge about once an hour all night. So need less to say around 5:30 am when I woke up, we quickly packed everything up into the truck and headed down Rt 2 before the mosquitoes could eat us alive.
About an hour down the road we stopped at Glasgow. It was still pretty early and we drove around town looking for a good place to eat. For the life of me I could not find any place to eat. We eventually stopped into a gas station, filled up the tank and asked where a good breakfast place was. Turns out it was just around the corner down a street I had not gone yet. It was the best food yet. Nice little breakfast shop, open 24/7, since 1914. Had a "platter" which was hash browns, some vegies, and 2 eggs on top with toast.
While waiting for breakfast I studied the map and tried to decide if we should jump down to I-94. It would probably take about an hour of mainly south travel. Eventually I decided to stick with Rt 2. I would probably be on I-94 coming back so why not take a different road.
After breakfast I called up Kate at the payphone located in the breakfast shop. It was just before 7am in Seattle, but Kate was not yet up and answered groggily.
Then it was back on the road. We took a little side detour down to Fort Peck to check out the reservoir and give the dogs a little walk. Then it was back up to Rt 2 and head east. It was pretty sunny and looked like it might be a hot day. Traffic was very light, almost non-existant.
Eventually we got to the North Dakota state line and put Montana behind us. The road got a little nicer and the skies start to cloud up. After about a half hour, it started to rain a bit. Then the 2 lane road turned into a 4 lane divided highway. Right on! But it started to rain harder. Eventually it was a full speed wiper type rain for quite a while. Traffic was still very light. The 4 lane road was really nice and by now I was glad we stuck with Rt 2.
The last time we drove out to Michigan we took I-90 and I-94. On both routes there was road construction, the type where they route you to the other side of the highway and turn it into a 2 lane road while they tear up the entire other road. I was hoping that by taking Rt 2, there would not be any construction like this. Turns out I was wrong, and there were several 10-15 mile constuction streaches.
We eventually rolled into Minot where we gassed up and took a lunch break. Minot was a pretty big town and it was still raining a bit and I didn't feel too much like looking for a place to eat. A diner looked like it would be OK for a quick bite. It turned out to be a chain of 4 diners in North Dakota. Not exactly a McDonalds, but the food was nothing special. I had a BLT and vanila shake.
In Minot we lost another hour and were now on Central time. I did a route check on the GPS and determined we would be able to get to Grand Forks no problem by about 5pm local time. We were making good progress so I decided to push a little further to Bemidji, MN and get a hotel room there.
Grand Forks was another major city, sort of like Minot, with strip malls, Home Depots, etc. Just outside of Grand Forks on the MN side of the river, my cell phone got a signal. I called Kate and got Leighann. Two hours difference meant it was just before 4pm in Seattle. Then I called Pop-pop and informed him of where I was. He was glad to hear from me. Then a short time later the phone rang. I though it might be Kate, but turned out to be Margy, in Hessel. The connection was crappy so I hung up and went down the road a bit until I got a better signal, then called her back. She was very excited that I was in Minnesota already, which basically meant that I would be in Hessel the next day.
Bemidji was the end of the 4 lane Rt 2, and another pretty big down. We got a room at the Best Western, $75, but worth every penny to get a shower. Drove around town and found a local pizza shop and had a small pizza and a couple of budwizers. Then returned to the hotel room to call Kate, and write up the days events.
Music and entertainment for the day was more Phish and blazed through book on tape, Life the Universe and Everything.
GPS stats to date: 1578 miles, moving average 62.7 mph, which means a 678 mile day.
A quick calculation from here to Hessel shows about 560 miles, which is very do-able in one more day, so the plan is to get up bright and early, hit the road and be in Hessel by Tuesday late afternoon. Traffic and roads might be a little slower but shouldn't be a problem.
August 5th

At 5am my alarm went off. I meant to get up and be on the road early, but fell asleep again, and woke up at 6:15. The dogs were very well behaved in the hotel. I packed up the truck, fed and watered the dogs and we got back on Rt 2. I decided to do breakfast after putting a few miles down for the day.
I thought that the 4 lane Rt 2 stopped at Bemidji, but it kept going to my surprise, which was great. I had high hopes that we would have 4 lane all the way to Duluth which would help make this an easy driving day. But, after a little while we were back to 2 lane. And we ran into more construction. The kind with flaggers. It was not that much of a slowdown though. A bigger slowdown turned out to be other people going slow and nowhere to pass.
A couple hours down the road we pulled into a truck stop for breakfast. It was a pretty new building, and very empty, but by this time I was hungry and decided to give it a try. The dogs also needed a pee/poop break. Breakfast turned out to be pretty good. I ordered french toast which came with a corn flake crust. Kind of different but something I might try at home.
Then it was back on the road again. The 4 lane sections came from time to time on the way to Duluth, which helped get past slow people. Near Duluth the cell phone started working again, so I gave Kate and call, and also called Margy to fill her in on my ETA. GPS said I would be in around 4pm, add an hour for Eastern time and we where looking at 5pm. Granted this was calculated with the 70mph speeds I was able to do so far and figured the "U.P." would probably cut that down. So 6pm is probably more like it.
Duluth meant that another state was behind us, and all we had left was 2 more. Wisconson did not take that long, but the pace was definately slower as we were going in and out of towns with people going various speeds, even slower than the speed limit. We also hit a short section of Rt 2 which was being completely torn apart and had to route over some back roads for a couple of miles.
Eventually we crossed into Michigan and stopped for gas. At this point it seemed like we were on the home strech, but we still had about 4 hours left. This turned out to be the hardest 4 hours of the trip. The only thing that kept me sane was another book on tape, So Long and Thanks for All the Fish, and various non-Phish music, Cake, and Joe Satriani. Another was coming up with some rules and guidelines for driving on 2 lane roads:
Try and keep a consistent speed. Use cruse control if you have it. There is nothing worse then someone who goes 50mph for a while, then speeds up to 70, then back to 50 again.
If you are holding up more than 10 vehicles, pull over. Especially if you are a camper.
Drive at least the speed limit.
If the road is straight as an arrow with no side roads as far as the eye can see, you are allowed to break the speed limit.
Don't travel in packs, especially if you are a camper. The worst time was when 2 campers where in a pack, holding up about 15 vehicles and nobody could pass.
Don't tailgate someone unless you are going to pass them. Nothing worse than having 4 people tailgating each other, which means you need to pass all 4 of them at the same time, because there is no room to get inbetween then to pass them individually.
If you get to a passing lane stay to the right lane unless you are prepared to go at least 20mph over the speed limit. Nothing worse than getting to a passing area and having everyone fan out across the lanes and not actually do any passing.
If someone starts to pass you, slow down, don't speed up.
If there are people behind you trying to pass, and there comes a nice straight open piece of road, don't speed up. Slow down so the person can pass you.
Be aware of people behind you. This was probably the root of all problems as people dont look in their rear view mirror and are not considerate of other drivers. One woman breaking rule number one had head phones on and was obivious to the rest of the world.
Part of the problem is I probably didn't pick the best route across the U.P. In Wakefield, I got off Rt 2 and onto 28, which took me on the far north of the U.P. where it crossed I-70, then took a short 30 minute drive straight South to Cedarville, then back East a few miles to Hessel. There was some interesting scenery along this route though, Marquette was nice and there were some really good views of Lake Superior.
Eventually we arrived in Hessel. Phineas and Dottie were probably the most excited of everyone, and ran around crazy, in and out of the water for quite a while. Margy had dinner ready a short time after arrival which hit the spot, and was probably the best dinner I had the whole trip.
Time for a 2 week rest and then do it all again backwards.
GPS stats for Seattle to Hessel: 2179 miles, moving average 61.8 mph, moving time 35 hours, 14 minutes. The last day was 601 miles.
The Return Trip
August 20th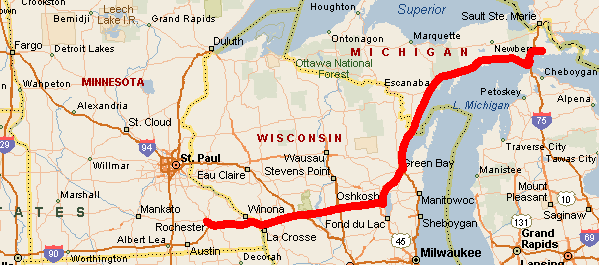 After a little over two weeks of relaxation at the Hessel Cottage, it was time to start the drive home. I figured I could do the return trip in 3 days, leave Wed, hit Bozeman Thurs night and be home Friday night. Some GPS calculations showed a day 2 of over 1000 miles from St Paul to Bozeman. That would be a long day, and after talking with Ted, he really wanted me to come Friday so I could meet Kristen. So at the last minute I changed my plans. Instead of blazing across 94, sort of the direct route, I would go down to I-90, and take my time and check out some stuff in the Black Hills.
After two weeks of relaxing I was ready to head home, but when the morning to leave came I got a little sad. Some of it was the Hessel Cottage has really become a special place and I was sad to leave it behind for another year or two, but mostly, I was sad to leave Arla and Kate behind, and sort of wished we could all drive back together. But that is for another year.
I had packed up all our stuff the day before and all I needed to do was get the dogs and some last minute things in the truck. We even had a "hessel rock" loaded in the truck to bring home to our yard in Seattle.
I left around 8am and waved goodbye to Kate and Arla. The route I took was pretty much the reverse of the route we took driving to Hessel a couple of years before. 134 to I-75, then south to St Ignas, and onto Rt 2 West to Escanaba, then 35 south to Marinette where I gained an hour back. Took a short pee brake for everyone and continued South on 41 through Greenbay, Appleton to Oshkosh. Then headed West on 21. Stopped in Omro for gas, and then further down the road a ways in Regranite for lunch of grilled ham and cheese and fries. Then it was a final push on the 2 laner to Tomah and I-90.
Rt 21 was bussling with cops. On all my travel days so far I had only seen two cops. One in Montana who waved me to slow down in a 35mph construction zone, which was really a rough rode, and one that I passed just before arriving in Hessel. The 4 cops I passed didn't seem to think I was going that fast, mainly because I was behind other slow people.
Eventually we put the 2 laner behind us and got to I-94, which we took South for about 4 miles and then hooked up with I-90 West. There was a big massive new WalMart Freight facility at the I-94/I-90 junction as well as other big freight transfer yards. Cruised through La Crosse, across the Mississippi. On the way out in northern Minisota we crossed the Miss when it was a small creek. Now it was massive.
I was not sure how far I wanted to go for the day, but knew that day 2 would be to Rapid City. Rochester seemed to be a good stopping point so we checked into a Super 8 Motel. Had to do the smokers room due to the dogs. After a short break and a little TV, we headed into downtown to find some food.
Had a great Veal ?Felix? dinner at Victorias Itailan Restaurant. Rather pricy as compared to my other road meals, but very very good. Then it was back to the room for a shower and to type up the days report.
GPS stats (reset for the trip back): 540 miles, moving average 62.1 mph.
(Note: There are no pictures of the return trip because the camera stayed with Kate in Hessel)
August 21st

Since I had a hotel room and the days drive was not going to be that bad, I planned in sleeping in a big, but the dogs didn't think that was a good idea. So we all got up early and were on the road by 6:30.
As usual we made a little progress on the day and headed down the road before looking for a good place for breakfast. Decided on a truck stop in Mitchell where we gassed up and took a short break for breakfast. Frech toast again. Not nearly as good as what I had on the trip out, but it was enough to get me through the day.
The word for the day is billboards. Specifically "Wall Drug" billboards. The last time we drove to Hessel 2 years ago, on the way out going east on I-90, we started to notice these billboards for "Wall Drug" while we were still in Wyoming. They were about every couple of miles and the closer you got the more signs there were. We decided that we needed to check it out and went into the town of Wall, population 800. It was really not a "Kate" place, basically a big tourist trap. A really BIG tourist trap. Probably everyone in town worked there. But, it's probably something everyone should see at least once.
But this time around I had no intentions of stopping at Wall Drug. But the billboards where there, this time I was going West on I-90 and the billboards started in Minnesota. There was actually one billboard that said there was a Wall Drug billboard in Africa.
Along with the Wall Drug billboards where once for Corn Palace, Black Hill Caves, and about anything else which was along I-90 in South Dakota. The 4 laner got a little tiring and boring to drive so the billboards I guess helped give you something to do.
The GPS said we would arrive in Rapid City early, so just for the fun of it I decided to check out one of the billboard places. Pioneer Auto Museum in Mouro. The first thing it had going for it was dogs where allowed, so I put on the "short leashes" and they pulled me trough many buildings of old cars. There were tons of them. This guy started a collection of about 25 back in the early 1900's and decided to share them with neighbors. Then I-90 came along and his children kept collecting more and more cars. They had a Tucker, one of the General Lee cars from Dukes of Hazard, and even had Elivis's motorcycle. Turned out to be a very fun stop, and all for $7.50. I think they had something like 250 cars, trucks, tractors and motorcycles. Amazing.
Then it was back on I-90 and closing in on Wall Drug. Just before Wall was the start of the Badlands. On our last trip we camped in the Badlands and drove out the scenic highway in the morning. This time I went the reverse direction through Rt 240, which goes right through the Badlands. If you are ever in this area, drive this road. It's a spectacular drive, even if you are stuck behind a big RV. (note this picture is from 2 years ago).
The end of Rt 240 dumpes you back on I-90 right at Wall. The draw was powerful, but I resisted the urg to see Wall Drug again and continued on to Rapid City. On the edge of town we gassed up and then checked out the Black Hills vistor center which was rather nice and had lots of good information. The Black Hills looks to be a major recreation area with lots and lots of stuff to do and see. It started to become clear that it could become a mob scene of people, cars, buses and RV's, so my plan was to get up really early and check things out before anyone was awake.
Checked into a Super 8 and this time got a non-smoking room. Walked the dogs around the neighborhood, then went and had a pretty terrible buffalo steak dinner at a diner down the road. Back to the model for a shower, little TV, and to bed early.
GPS stats: 1139 miles (599 miles for the day), moving average 65.7 mph.
August 22nd

We got up bright and early, before the sun was even up and were on the road by 6am. The roads where empty, the scenery was great (if you could ignore all the billboards) and we where soon driving up to Mt. Rushmore as the sun came up. It nice to see at this time of the day. I can imagine what the place looks like in the afternoon as there were some pretty big parking lots. We continued on down a nice winding mountain road and all I could think about was I really need to bring the Speedster out here and drive around the Black Hills.
From Mt. Rushmore we headed west a little and then south to check out Crazy Horse. Now that's a monument. It's nowhere close to being done, but if it ever gets done it will take up about half a mountain. Again, big parking lots with nobody around. Could be a major zoo later in the day. We headed further south and could still see Crazy Horse in the distance. Drove into the town of Custer, got a Latte and asked where a good breakfast spot was. Cheif restaurant was were all the locals went so that's where I headed. Breakfast was ok, but not as good as Johnnie Cafe.
After breakfast we headed further South to the Wind Cave National Park to check it out for future visits. The Wind Cave consists of about 125 miles of cave (that has been discovered so far), all within about a one square mile area. There are 3 or 4 different tours that you could take, but no dogs. Definately something to check out later.
Next we retraced our steps back to Custer and then West to Jewel Cave National Monument. Jewel Cave is even bigger than Wind Cave and I believe is the 3rd largest in the world. Again, several different tours, no dogs. It was getting too hot to leave them in the truck so we marked this down as another place to return to and continued on towards Bozeman.
Rt 16 out of the Black Hills hooked back up with I-90 in Wyoming. It was getting pretty hot and the drive was getting a little tiring again. Started my last book on tape, Mostly Harmless. I was going to save it for the last day, but I needed something other than Phish to keep me going at this point. We gassed up in Buffalo. In Billings the cell phone started to work again, the first time since Rochester. The day was started to get a little long, but eventually we got to Bozeman and I drove from memory to Ted's house. We had stayed here on our last trip out with the dogs. When I let Phineas out of the truck he made a beeline straight for Ted's door. Guess he remembers where we where.
Ted arrived from work a short time later. We left the dogs at his house and headed over Kristen's (Ted's fiance) house for dinner. A great dinner of flank steak, salmon, rice and beans, and some beer and wine helped relax me after along days drive. Hung out for a while visiting, and then headed back to Ted's house to crash for the night. One more long day and we are home.
GPS stats: 1720 miles (581 miles for the day), moving average 65.3 mph.
August 23rd

The last day. Got another early start and left Ted's house at 6am. Back on I-90 to Billings where we stopped for breakfast. Checked in with Kate on the cell phone, then got back on the road. The word for today was construction. Ran into some between Bozeman and Missoula, and then lots between Missoula and Spokane. Finished up Mostly Harmless. Back to Phish, CAKE, and Trey to keep me company. Gassed up again just short of Idaho border. It was pretty overcast and smokey, but eventually the sun came out near the I-90 and Rt-95 junction in Idaho. When I was here a few weeks before it was poring down rain. I really had come full circle in more than one way.
The closer I got to Seattle the more traffic there seemed to be. Passed through Spokane and got all the way to George before I needed some more gas. Gas was the most expensive of the whole trip in George, $2.08/gallon, and there were tons of people around. Must be a concert at the Gorge or something.
Eventually we made it home at 4pm, another long day, but Phineas, Dottie and I all made it home, through an almost 5000 mile round trip.
GPS stats for Hessel to Seattle: 2408 miles, moving average 66.6 mph, moving time 36 hours, 8 minutes. The last day was 688 miles.
While I did take some side trips on the way back, the I-90 route was longer physically, but you were able to go faster. Construction was a problem no matter which way you go. Even in the middle of nowhere in Montana, there was construction.
Of all the places I drove through, I would have to say the Badlands/Black Hills area in South Dakota is something not to miss. In any future trips they should definately be in the coming or going route...along with a stop at Wall Drug.