October 20, 1992
This was the decade which made a big change in our lives. We decided to build a new home in a rural area of Bucks County, Eddie and Carolyn were both married and on their own, I decided to retire, and we travelled considerably. Mary Liz found a nice wooded lot on Street Road in Glendale, near Lahaska. It was the decade of the trailer.
I resigned from the Yacht Club Executive Committee and we had little interest in the Club or Seaside. We still had an active social life with all of our old and new friends.
1970
Our first grandson, Christopher John, was born January 12th. and Mary Liz headed for Bellevue in April to baby sit. It was the ultimate pleasure and she topped it off with a trip to Dallas.

The Melrose house was sold at the end of '69 and we moved to Seaside August 21st. where we planned to stay until our new house was built. We made many trips with a trailer on behind the car to move our incidentals and we had the furniture moved to storage. I commuted to Bristol and we spent a lot of time in Glendale while the house was being built. I redrew the purchased plans increasing the size and adding details that we desired.
We found a contractor to build the house and signed the contract on July 13th. I agreed to do the painting, electrical work, build the cabinetry, and to provide the sewer and water services.
The house was started October 20th. and during the winter I built the Kitchen and Bathroom cabinets.
1971
I was on a business trip to California and was asleep on a top floor of a Holiday Inn in the San Fernando Valley, Ca. the night before flying home. During the night there was a severe earthquake. It was a strange experience. The whole building swayed and with the lights out it was h--- to try to pack and to feel ones way to the lobby. I did a little site seeing on the way to the airport.
Eddie was transferred to the City Office and moved to Marlton N.J. It was great to have them close to us again.
Eddie had another son, Scott Charles, born on April 19th. at Camden Memorial Hospital.
We spent a lot of time in Glendale during the construction. I was busy painting and spent my vacation doing the electrical installation. Finally the house was completed and we moved in on August 4th.
Everyone wanted to see our new house. Mary Liz organized delicious Brunches on Sundays and we had the first of five on January 16th.
During the year Eddie moved again to Glenside into an older Victorian style house.
1972
GERMANY

For vacation this year we made reservations through Rosenbluth Travel for a trip to Germany. We left on Pan Am on the 25th of October. We stayed in Berlin for a few days and went through Check Point Charley into East Berlin. There were still bombed out ruins and it was much different than West Berlin. It was most interesting. Mary Liz had a fit when I took pictures which were taboo. For one, I climbed up to look over the wall to take a picture. Another was from the bus as we were passing from Check Point Charley to the East Berlin border. It was quite an experience being looked over and questioned in such detail. They even looked under the bus and I saw them put a probe into the gas tank on a car passing through.

We flew to Hanover, Germany where we rented a car and headed for Ankum to look up ancestors. After considerable difficulty we found the Ricklemann that Mary Liz had been corresponding with. She lived on an out of the way farm. She couldn't speak English but she had a friend that helped and we had a very nice friendly visit. She wanted us to stay but we couldn't stand the smell of the pigs that were housed just off the kitchen. We stayed in town and did some research.

Our 3000 plus mile motor trip headed for the Romantic Road and the many beautiful villages of Marburg, Rothenburg, and Garmisch. Our favorite was Rothenburg where we stayed in a lovely old Inn in a room overlooking the gardens. This was our first real tour where we were on our own and it's impossible to express all of our great experiences.

It was most interesting to stop at the Inns and the native German restaurants and to try to make our wishes known. The beds were covered with a feather filled comforter which was about nine inches thick.

After the Romantic Road we went into Switzerland to visit St Moritz. Our trip then continued over the Brenner Pass to Innsbrook, to Hitler's Eagle's Nest, to the summit of Gross Glockner Mt., and finally we arrived in Vienna.

The drive up Gross Glockner was terrific. The road was plowed out of the deep snow and there were many hairpin curves. The views and the mountain were awesome. There were sticks in the 6 foot deep snow along the side of the road to keep the plow from straying from the roadway and going over the edge.

Hitler's "Eagle's Nest" was most interesting. We saw the SS bomb shelter under the Inn and many other places that were prominent during the war. To reach the top one took a bus to navigate the narrow torturous road and then a ride up in Hitler's red leather lined elevator to reach the summit. There was much evidence of the severe Allied bombing.

We visited a German, Baron Von Frank, in his castle. He had done some genealogical work for Mary Liz. He was an expert and had done research for many well known people and had wonderful records. He had been asked to check out Hitler's background in the early days of the Third Reich.

We couldn't get reservations in Vienna. Luckily I met an independent tour director in a gas station and he led us to the Vienna Woods where we stayed at the Sacher Hotel. We listened to Viennese music in the garden and enjoyed delicious pastries in the afternoons. It was the time of the new wine and we joined in on the celebration near Vienna. Naturally we visited the important attractions that Vienna had to offer.

We danced to music by a German piano player at the Sacher and since we couldn't cope with the phone system or the language, she made a phone call for us to our friends in Czechoslovakia. Our stay in Czechoslovakia is a book in itself. Being behind the "iron curtain" at that time was scary. We stayed with Milos and Marie Lahoda and saw many beautiful museums and old castles. The Lahodas and their friends the Kanias were our guides. It was like a scene out of a movie. One night we all walked to visit a priest in the church's wine cellar. The streets were deserted and there was music playing over loud speakers located along the way. We practically had to sneak into the church yard. The Czech people were a lot of fun when they felt safe and were singing their songs. We had much wine which they got from the casks in the cellar. One song "Roll Out the Barrel", they claimed as there's.

After a few days it was time to leave and we had to practically tear ourselves away. We headed East to Nurnberg, Munich, through the Black Forest area to Baden Baden, Heidelberg, and finally Frankford.

Nurnberg was a quaint walled city with many toy shops. In Munich there were still war ruins and there were large hills that we were told were made from the rubble from bombed buildings. It was the year they were preparing for the Olympics. The Hofbrau House was a must see place where we met a few German young men and enjoyed their company. They took us to another place to drink wine and to enjoy the night life, German style.

Along the way to Frankford, driving through the Black Forest region, we saw the source of the Danube River and visited a Coo Coo Clock factory.

Our final stop was in Frankfurt where we decided to explore the area and got on the Autobahn. We were low on gasoline and in searching for gas we got lost and wound up asking the police for directions. In desperation over the language problem, they decided to escort us to the hotel. They led us right up to the door with the usual foreign siren blasting. It was just like the movies.
1973
After the summer in Seaside we got the urge to do something else and decided on a motor trip through New England and to Nova Scotia. We visited Portsmouth, Bar Harbor, the Bay of Fundy, Prince Edward Island, and finally Nova Scotia. On the way we saw President Roosevelt's summer home in Campobello, the Cabot Trail, Peggy's Cove, Baddeck, and Halifax. The history and quaint fishing villages etc. made it a very interesting trip. Part of our trip home was via an overnight cruise from Yarmouth to Portland.
For some reason, we made two trips to Dallas. I think one was when Uncle Harry died.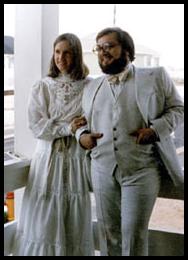 1974
On January 28th, Carolyn married Edward Bottone at Old St. Joseph Church on Pine Street. Carolyn had quit her job at Rohm and Haas by that time and had tried Real Estate and met Edward while she was working at Gargoyles, a peddler of salvaged architectural pieces. Edward owned Lautrec a gourmet restaurant in Society Hill. In May we had a party in Seaside to introduce the newly weds to our friends.
My Mother had moved from Ocean City to Lynnwood Gardens after my Dad died. On July 20th. we moved her to the apartment I had built over our garage.

Eddie surprised us by quitting his job at Rohm and Haas and committed himself to take on a business on Orcas Island Wa. Once again they were on the West Coast. We didn't like the idea but at that time we didn't realize know how much it would change our lives.
We sold the house in Seaside Park since the children wouldn't be there to use it and we would be spending considerable time on the West coast. I had made many improvements to the shore house since it was bought in the 40's.

At the end of September we helped Ed by agreeing to drive his belongings to Orcas in the biggest U-Haul truck. It was a fun trip. We made good time and the young Suttons couldn't keep up with us. Chris said, "Grandad slow down". I "creamed" the lights under the roof at the entrance to a Holiday Inn; otherwise it was an easy eight day trip.
We stayed at Rosario's Resort for a week and then flew home.
On December 11th. we bought a Holiday 20ft. trailer and had the Pontiac equipped for towing.
1975
During the year there were the usual parties and entertaining. We enjoyed Lautrec and made it part of our entertaining agenda. Ed's move and the trailer changed our travel plans considerably.
Our "shakedown trip" with the trailer was in March. We headed South to the Outer Banks N,C. and stopped our first night to stay with Karl Kaiser in Oxford MD. Before stopping at Kaiser's, we had driven onto a narrow dead end road with no place to turn. We ended by having to back up the rig for about half a mile. What a job.
At Kaiser's, without thinking, we pulled into his narrow confined driveway off of a narrow street. Next morning it was just about impossible to back out and make a 90 degree turn into the narrow street.
We decided that we would be wanting to spend more time with Ed on the West coast. Mary Liz convinced me that I should take early retirement at 63, which I did at the end of April. The R & H gang gave me a nice retirement party before I left.
Shortly after retiring, Carolyn got me interested in making miniature furniture reproductions. I made several designs from scratch, cutting my own materials, and making them just like the originals. I gave most of my production away as personal gifts. Some were very popular and I did sell them without much effort. This was my major hobby until the mid eighties when computers took over my interests.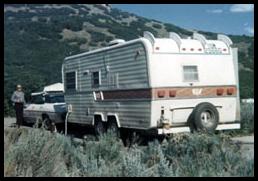 In May we headed out on our first trip across the country in our trailer. We took 12 days going out via Wheeling, W. Va.; St. Louis, Mo.; Rocheport, Mo.; Wall, SD.; Rapid City, SD.; Butte, Mont.; Spokane, Wa.; and Annacortes, Wa. To get to Orcas it is necessary to take a ferry from Annacortes. After doing this many times, the long wait for the ferry and the hour long trip became frustrating. After spending 45 days on Orcas, with a couple of short side trips to Vancouver and Port Alberni Canada, we headed home via the Northern route; Lake Louise, Jasper, Bamff, Medicine Hat, and Weyburn, in Canada. We then dropped down through Valley City, ND.; Michigan City, Ind.; Emlenton, PA.; and home to complete a 7000 mile trip.
We took the trailer and spent Christmas in Williamsburg and then headed South to stay with the Pyles in Knoxville, TN. and then on down to Dallas.
1976
We spent practically all of January in the trailer heading home from Dallas across Texas to New Orleans, Tallahassee, FL.; Jekyll Island, GA.; and up the East coast to home.
In June we were off again to Orcas Island. This time we took 21 days going West across the center of the country, Rt 40 mostly, to California. Then North enjoying the beautiful coast line, especially in Oregon. This time it was about a ten week trip and we came home taking a new route across the Northern states.
My Mother hadn't been happy in the garage apartment and she was now living at the Friend's Quaker Home in Newtown. She had company there and was happier. She died there on October 9th. and was buried with my Father in Arlington Cemetery, Drexel Hill, Pa.
We didn't miss the shore. We still saw our friends and made a few trips to the shore area.
1977
The trailer again was our home on a short trip to Washington D.C. The King Tut exhibit was a popular topic and we saw it while in Washington. It was about a 10 day trip and we took the White House tour, had lunch in the Congressional Dining room, visited selected Congressmen, visited the Senate, and saw most of the important tour points of interests.
Our summers now were spent on the West coast and we took off again on June 1st. This time our route was a little further North, Rt 80, and we stayed in Yellowstone Park, the Grand Tetons, and visited many of the old Western and Pioneer sights. I think this was the year we took a ride through the rapids on the Snake river.
We stayed on Orcas in our usual spot at West Beach and renewed our contacts with the friends we had made there. This year a memorable event was our introduction to the Bill Suttons at the Orcas Hotel. Before we left, Bill invited us to go on a cruise around the Gulf Islands in Canada. Luckily we accepted. It was a pleasant four or five days on a 45 foot motor sailer.
When we were ready to leave Orcas this time we left the trailer and flew home to Glendale on August 8th.
We finished out the year with a motor trip to Wolfboro, VT. on August 24th. to stay with the Freygangs.
1978
This year we planned a change. We flew to Orcas on January 3rd. and after about a week we headed South in the trailer to follow the West, South, and East coast lines to Bucks County.
It was a whole different experience. We took 45 days to make the trip. It was our first time in the Southwest. We went to Disneyland and the Columbia Studios. Our trip included visits to Santa Barbara, CA; San Diego, CA; Yuma, AZ; Apache Junction, AZ; Phoenix, AZ; El Paso, TX; Big Bend Nat'l Park, TX; San Antonio, TX; Dallas, TX; Baton Rouge, LA; Thomasville, GA; Charleston, S.C.; Graysonville, MD; and many places along the route.
We crossed over into Mexico at a few of the border towns. We had a surprise as we got nearer home. It was very cold and there was a lot of snow. We had to leave the trailer at a gas station a few miles from home. Another 8000 mile trip.
One would think we had enough but it was off again on June 12th for a 17 day ride to Orcas. This time our route took us through Michigan, Wisconsin, South Dakota, Wyoming, Montana, and Washington.
The Lipmans were on an Ocean Spray convention to Washington and came to Orcas to stay a few days at Rosario's. The Bill Suttons took us all out for a sail and for breakfast on Lopez Island. We took the Lipmans to Victoria and they left for home via Vancouver. After about eight weeks on Orcas we headed for home again.
This time we headed across the Trans Canada Highway. A very interesting ride until we got to White River, Ontario. We lost a wheel bearing and weren't able to get service. I tried a temporary fix without success. The pilots were on strike and it was impossible to get service from Holiday Trailer. I wound up driving a 100 miles east looking for a place to get the necessary parts. Then west to Thunder Bay where I was lucky. They had just received a long awaited shipment the day before and had exactly what I required. We continued our trip through the Thousand Islands to home on September 3rd.
1979
Once again, on March 19th., we took the trailer for a week in College Park MD. as a base for visits into Washington, DC. This time the Mikitas stayed in a nearby Motel for a weekend while we were there.
If it's June it must mean Orcas. We left on June 4th. heading through Maryland, Kentucky, Indiana, Missouri, South and North Dakota, into Canada. We visited Bamff and Lake Louise once again on the final leg of our trip to Orcas.
After about six weeks we decided to leave the trailer and car on Orcas. We had covered about every route across the country. We flew home on August 8th. and that was about the end of our trailer experience. We had made five and a half trips across the United States and covered about 50000 miles
towing the trailer.
On October 3rd. the Pope was in town and Mary Liz joined the crowd to welcome him to Philadelphia at Logan Square on the Parkway.
Carolyn separated from Edward and moved to an apartment at 18th. and Delancey Street.