May 19, 1992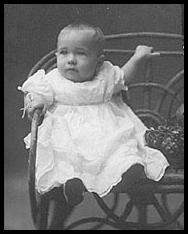 I was born at 2046 Croskey St. in South Philadelphia on April 13, 1912, the day after the Titanic sank.
My father was Howard Kolbe Sutton born November 16, 1887. He was the only child of Samuel Merritt Sutton and Louisa Kolbe.
My Mother was Martha Hyland Eill born February 2, 1887. She had a brother, Elmer, and two sisters, Anna and Ida. Her parents were Elmer Edward Ellsworth Eill and Mary Krall.
My Mother and Father both spent their single lives in the South Philadelphia area. They were both High School graduates and I believe my Dad went to the Pierce Business School. They were married March 8, 1911 and moved to Croskey Street in South Philly where I was born. For as long as I can remember, my maternal grandparents lived in a very nice residential section of So. Philadelphia called the Girard Estate and the Sutton grandparents lived in a corner house in West Philadelphia.
Mother and Dad moved quite a lot during my early life, they would improve their house and then after a few years they would sell for a profit and move to a better home. We had hardwood floors and many of the modern features when they weren't commonplace. I remember the old style up-right telephone and when we were about the only Sutton in the phone book. I recall that we have always had a garage and a car since we lived on Fernhill Road. Our first car was a straight windshield model T Ford. I can remember the old bucket a day stoves to heat hot water, my Dad having to put coal on our furnace, and putting the ashes out every week. My Dad had another source of income, called a side line in the early days. He and a cousin sold radio parts to places like Rumsey Electric in the early days of radio and also "peddled" vacuum cleaners and washers.
During prohibition Dad's boss, Mr.T Fisher who donated money for a stadium which was named for him at Lafayette College, asked him to store his excess scotch in our house. I recall one time when we had to load several cases into the "flivver" and to drive it through the park to our house. Another time the family, when we were driving home, was stopped by another touring car with men holding rifles when it skidding in front of us near Broad and Olney. They were looking for some fugitives that were in a car like ours.

I'm a little vague about the years from when I started school to when I blew off my fingers. About the time I started school my parents decided to move to Collingswood, New Jersey. It was a nice single house in a relatively rural area at that time. I started school in a one room school house. All classes were taught in the one room. After a short time we moved to get into a better school system.
About the only things I remember about that period was getting lost when I went exploring in the farm at the end of our street and the fire house where my Dad took me to see the fire engines.
I next remember living on Baltimore Ave. near my Grandparents. I don't remember going to school in West Philadelphia but I think this is where Dorothy was born in 1918.
Our next move was to the Fernhill Road address in Germantown, a suburb of Philadelphia.

Before Dorothy was born, I remember spending time during the summer with my Mother at a rooming house in Wernersville. We enjoyed a Wilbur chocolate bar as a treat when we took an afternoon nap. Dad would come for the weekend. I think Dad was losing his hair during this period and had his head shaved in an effort to stop the loss. He wound up with a bald top from then on.
I started my interest in mechanical things at an early age. I received an electric train set for my third Christmas and I always liked to find out how things operated. My favorite toys were alarm clocks and anything that I could take apart.